About us
Hotel Biograf ****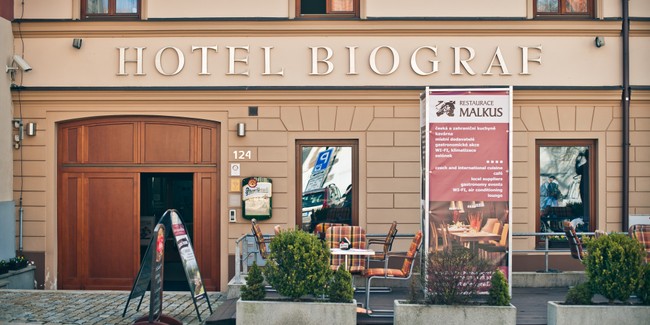 The Biograf hotel can be found in the building of a former cinema in the very center of Písek. Exceptional design with elements of 20th century cinematography, modernly furnished rooms, always smiling staff, and excellent food – all this represents our hotel in a nutshell. The Biograf hotel offers suitable facilities for everyone, whether they are heading to Písek for sightseeing, relaxation, or work duties. The accommodation price automatically includes a rich breakfast buffet served every day from 7:00 a.m. to 10:00 a.m., prepared from high-quality ingredients.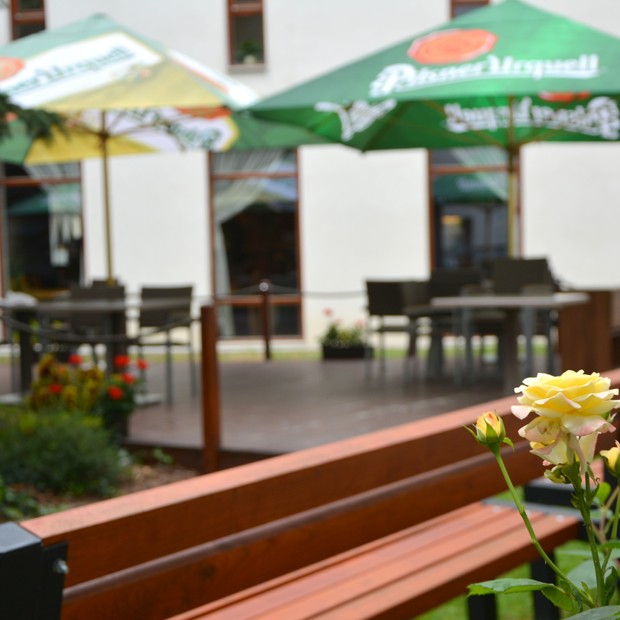 Our accommodation facility has 50 rooms with a total capacity of 103 beds. For guests arriving by car, we have an underground garage located 250 m from the hotel. Guests coming for cycling can use a closed area in the hotel to store their bikes. Part and parcel of our hotel is the famous Malkus restaurant and the stylish Café&Bar, which offer pleasant outdoor seating in inner courtyard and directly in front of the hotel for most of the year. For maximum relaxation and rest, you can order a private Finnish sauna directly in the hotel or take advantage of our offer of massages. If you are planning a training course, a meeting, a job interview, or another similar event, our conference room with a capacity of 50 people will meet all your requirements. In all areas of the hotel, you can connect to the internet via free Wi-Fi.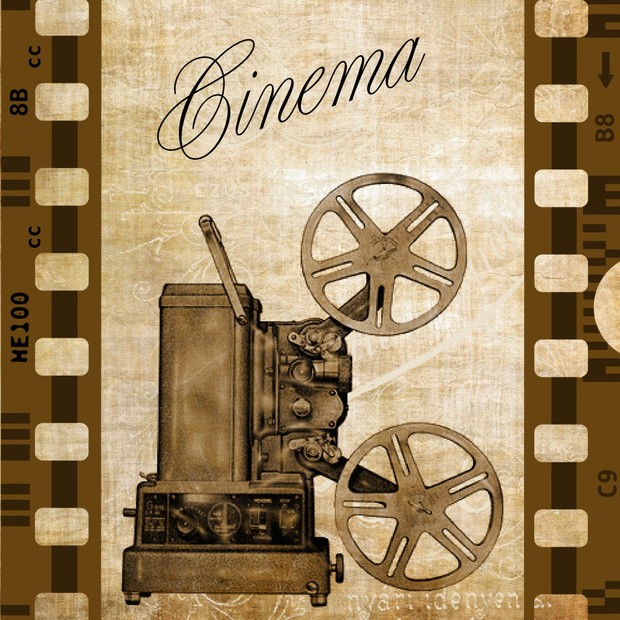 The history of the Biograf hotel building dates back to the 17th century when a cottage with farm buildings stood on-site of today's hotel. Over time, the farm buildings were transformed into a post office and, by order of Karel Malkus, completely rebuilt in November 1919 into one of the first permanent cinematographs in our country. Malkus' cinema was widely visited until 1924 when Karel Malkus and his wife were accused of tax evasion and the regional court sent them to prison. Since then, several tenants changed in the cinema, and finally, in 1938 it became a car repair shop. The former Bio Malkus, a building bearing signs of severe tests related to insensitive construction adjustments, was bought by the construction company Casta a.s. from Písek in 2001. 
 Already two years later, the thorny path to build a unique hotel with facilities not only for staying guests but also for residents and their social life began. The official opening took place on May 4, 2006, since then the hotel has been widely visited not only because of its excellent service and great cuisine but also because of its extra value brought by the genius loci.